adding in a few hours later – technically we should call this the never ending blog posts since I seem to keep coming and adding this, that, and a pool table to it. I promise I will try to remember to add every single little teensy tiny bit this time. lol (but I can make no real guarantees)
Part I:
So, other than a baby hat I made for my cousin's wife in the beginning of April I have not made anything new. (Note to self – message cousin's wife to find out if she can send me a picture of said hat) After I finished the hat I got it stuck in my head that I wanted to try my hand at lace… and I was having no luck on it… at all. Then one night I had a light bulb moment. I've been using the chart version of the patterns, because, as everyone told me, once I learned to read them they were soooo much easier than reading the actual word patterns. But I noticed something the other night, all the patterns, the row numbers, were odd. When I finally realized this I re-read through the notes before the pattern and realized I wasn't adding a plain knit row between the ones the pattern showed. God I felt stupid when I saw that. lol
Now that I figured out my stupid mistake I'm working on a new hat. (Shocker I know. lol) I'm not sure if it'll be for Belly or not yet. I've combined two patterns on this hat. One is from a toddler/baby knit hat book. It's for a plain rolled edge hat. The other one I'm using is for a fern lace wash cloth. (It's pattern #2) It's combining beautifully, but I just couldn't get a good picture were the design shows up well, but here's the best one I got:


I've got the fern pattern repeating twice on each needle, and the stitches are spread over 3 needles, so it repeats 6 times on the hat. I'm half-way through the first set of the repeat.
If you want to check out other people's craft endeavors check out this Crafty Friday post on Home Sweet Farm's blog. (Click the icon below to get directly to the post.)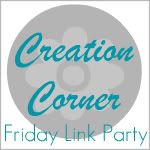 Part II:
I am joining in on the Flashback Friday fun this week over on the blog
Christopher & Tia: The Documentary of Us
.
We went to Disney World for a week in June of 2007. It was a tradition that when a grandchild turned 7 my mom's parents would take the whole entire family to Disney World. Well, in 2007 my cousin Danielle turned 7 and so off we all went. (
And by all I mean all 15 of us
)
Florida in June is so flipping hot. *panting from memory of heat*
It was the first time John, the boys, and I ever went and did vacation stuff as a family. Zach was turning three on the trip and Ryan was about 18 months. These are not the most ideal age to take little ones to Disney World… in the middle of the freaking summer. (or at any other time to be honest) There just isn't much they can do at that age, and taking turns waiting in line while the other adult waits with the kids isn't much fun either. But the boys enjoyed some of it.
I think our (as in my little family – not the whole) favorite part was when John and I took Zach out to do Character dining for dinner a few nights before his birthday. He had a blast. All the characters were from Winnie the Pooh, and The Many Adventures of Winnie the Pooh was one of his favorite movies at the time. Then to make it even better all the people sang happy birthday to him. He was in three year old heaven.
After the dinner was over we hung out at the park for a long time and stayed and watched the parade. I have to think that will be his hand's down best birthday party ever.